Stage tent rental: Well we actually call it the white top or day shade top. This custom built top delivers the headroom. From ground to bottom of frame there is 12' of ground clearance. From stage deck to bottom of frame there is 8' of headroom.
This is a unique design to tackle a common problem.... the event my not require a load bearing roof and a more cost effective solution is needed. Enter our custom built 24x24 top. Ok so what's so great? This custom built unit delivers the headroom, its' 12' of height from ground (structure over 16' tall at peak) is very unusual for a tent! It doesn't cheat to get this height. The support legs sit on the ground. With the legs sitting on earth the entire stage surface is useable and covered. Tents have poles on all 4 sides, but our top only has poles on 2 sides. This makes a clear span from the front to the rear and delivers the clean look of a roof system. This top rents for half of the cost of a load bearing roof system. And of course it sheds rain and provides a shady spot for performers just like its big cousin.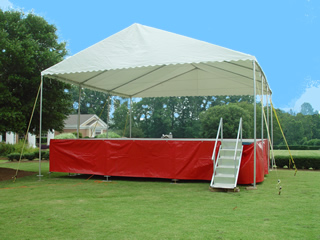 Back of stage showing stair access point.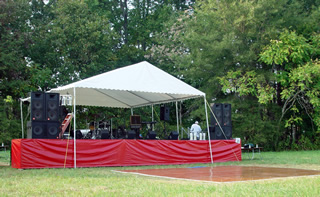 Shown with optional 8'x4'speaker wings.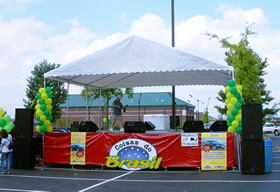 Shown with small audio rig.
The 24x24 white top is a non-load bearing structure. It is designed to be a day-shade top. Several clients have used this unit for evening shows and had the lighting set on tree sticks or used L-16's to fly truss in front of the top. Shows that require the lighting to be flown on the roof or backdrops/banners mounted to roof will still need to use the standard production roofs due to the safety limits of wind loading and weight on this structure.
ConcertAudio Stage Top Rental:


Some clients only need the stage and top. However, if your event requires complete production we have the proper equipment to service your event correctly.
So how does the ConcertAudio stage& top stack up against a normal tent and stage?......

We hope you can see the difference.
Stage and 24' top, On the LEFT is our newest creation. (photo above)
This 24'x24' top is a major step forward in comparison to standard tents. It's 12' tall (almost 17' at the peak). The normal tent to the right is only 8' tall and it has to sit on top of the stage to obtain that height. In addition ours does not take up any of the stage space to obtain this height. Our front offers a clear span. No post in front of stage like most tent systems this size. If your budget is tight and you need a professional stage and top system this is the one.
Please note that the right side is a competitors stage. Our rentals are complete in comparisson.
No stage skirt,
Not leveled (look at our stage, you can see that it has been leveled)
No handrail on stairs,
Poor safety system. The safety of your performers and guests should come first.